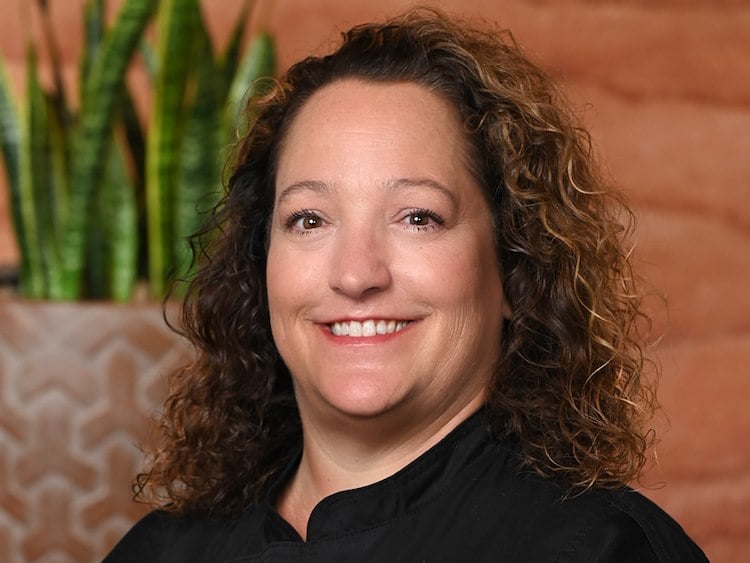 Angy Dykstra, Senior Sous Chef
With more than 25 years in the culinary and hospitality industry, Chef Angy Dykstra brings an amplitude of experience, knowledge and skill to the Sheraton Phoenix Downtown. Her creative culinary vision is evidenced with each bite, as she reinvents simple, fresh ingredients into vibrant, modern dishes inspired by the Five C's of Arizona: Cattle, Copper, Climate, Cotton and Citrus.
Her passion for crafting farm-to-table cuisine using locally sourced ingredients began back in her hometown Lake of the Ozarks, Mo. Her love of culinary would propel her to hone her skills and in 2010 she earned an Associate Degree in Culinary Arts from The Art Institute of Phoenix. Shortly after graduation she joined the Sheraton Phoenix Downtown culinary team at District American Kitchen & Wine Bar. Her focus, drive and impeccable palate would continue to excel her career within District and in 2022 she was promoted to Senior Sous Chef. In this role, Chef Angy worked tirelessly to cultivate and maintain the stellar reputation of Carcara both among guests and downtown Phoenix locals alike.
Arthur Pottenger, Director of Restaurants
Arthur has more than a decade in the hotel industry with tenure at some of the most iconic resorts in the state including The Ritz-Carlton Dove Mountain, JW Phoenix Desert Ridge, and most recently at the JW Scottsdale Camelback Inn. He is not a stranger to the Sheraton brand, completing assignments at the Sheraton Grand Chicago Riverwalk and the Sheraton Waikiki. In this time, Arthur has pursued his passion for wine and beverage, achieving Certified Sommelier through the Court of Master Sommeliers in 2017. With his background, Arthur has elevated the beverage program at Carcara by creating a partnership with Huss Brewery to make a Mexican lager for the restaurant to debut in early February 2023, bringing orange style wines to the restaurant, and working with Lieu Dit Winery out of Santa Barbara to make the first ever cuvee for the hotel.
Carcara is a space curated to provide a resonating guest experience, from our distinctive & inviting design to our thoughtful menus.

Grounded with a strong sense of place we celebrate local indigenous & seasonal ingredients. We welcome everyone to relish in Arizona's beauty and create new cherished memories.